Best Smart Home Products to Automate Your Home
Thanks to advances in technology, software, and automation, smart home technology products make everyone's life easier. Practically everything in your home nowadays can be automated or connected to your tablet or mobile device. This allows you to still feel connected and have complete control over your home, even when you're miles away.
In no particular order, here are 50 of the best smart home systems, devices and technology gadgets for do-it-your-selfers.
1. Rachio IRO Smart Wifi Enabled Irrigation Controller
You'll no longer have to worry about watering the lawn with this nifty gadget. It takes the guesswork out of keeping your grass at its greenest thanks to a number of intelligent design features.
Key features:
Personalizes your lawn water regimen using data specific to your location, season and weather
Control your sprinkler system with your iOS or Android device via WiFi
Reduce water bill and waste by only watering when your lawn needs it
Cost: *Est. $299
2. SkyBell Wi-Fi Doorbell with Motion Sensor
Take your ding-dong up a notch with this motion-activated smart doorbell. Now you can see who's at your door even when you aren't home.
Key features:
See, hear, and speak with who's at your door no matter where you are
Silent mode lets you turn off the door bell – perfect for new parents and shift workers
WiFi connectivity easily integrates into your home network
Cost: *Est. $199
3. Eyedro EHWEM1 Wireless Home Electricity Monitor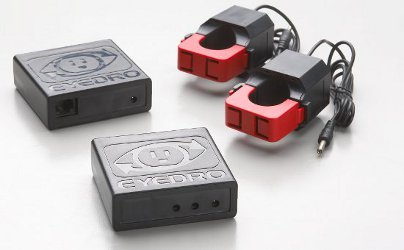 Help save on your home's energy bill by keeping tabs on usage with this electricity monitor. Keep tabs on which appliance is using the most power and adjust if necessary.
Key Features:
Get real-time stats on your home's energy usage with free online monitoring
Compatible for both residential and commercial installation
Easily compare usage and billing stats to save the environment and money
Cost: *Est. $199
4. Philips 431643 Hue Personal Wireless Lighting, Starter Pack
This smart lighting pack is seriously cool – you can create and save custom light modes that replicate your favourite images or even a sunset.
Key features:
Control your home's lighting right from your iOS or Android device
Change light levels and colors to suit your needs
Controls up to 50 bulbs with just one bridge device
Cost: *Est. $199
5. Bose SoundTouch 20 Wi-Fi Music System
This music system allows you to listen to great-sounding tunes from anywhere in your home and comes with a host of one-button presets you can configure to get your favorite music in no time at all.
Key features:
Stream music with just the touch of a button or via the SoundTouch app
Connects via WiFi to provide a home audio solution
Incredible sound experience Bose products are known for
Cost: *Est. $399
6. Honeywell Wi-Fi Smart Thermostat with Voice Control
Now you can control your home heating with a simple voice command. Set schedules to maximize your home's energy efficiency and get alerts if the temperature gets too high.
Key features:
Voice-activated commands allow you to control your home's temperature
Customizable color touchscreen seamlessly blends in with your home's décor
Compatible with Android and iOS devices
Cost: *Est. $299
7. Chamberlain Whisper Drive Garage Door Opener
Featuring a lifetime warranty on the motor, this garage door opener won't let you down. Lights turn on automatically when motion is detected and it will close itself in case you forget.
Key features:
Opens and closes even during power outages
Timer feature will automatically close door if you forget
Anti-burglary feature changes access code after every remote control use
Cost: *Est. $259
8. Kohler Touchless Toilet Flush Kit
All it takes to flush your toilet is a swipe of your hand thanks to this easy-to-install kit. Retrofits to most toilets, and features a streamlined design.
Key features:
Fits most standard toilets to allow touchless flushing
Easily installs in about 20 minutes, batteries last up to 12 months of use
Helps protect your family from the spread of germs
Cost: *Est. $48.98
9. Belkin WeMo Light Switch
You don't have to come home to a dark house anymore. Manage your home's lights from anywhere in the world via your Internet-connected mobile device. Save energy by setting timers or turning on just before you get home.
Key features:
Turn lights on and off, and easily set timers from anywhere via WiFi connection and WeMo app
Modular system lets you quickly and easily add multiple units
Compatible with iOS and Android devices
Cost: *Est. $44
10. OriGlam® LED Energy-efficient Person Motion Sensor Toilet Light
No more fumbling in the dark to go to the washroom at night with this motion-activated toilet light. You'll also avoid any wet surprises thanks to its innovative color-coding that lets you know the position of the seat.
Key features:
Motion sensor turns light on and off automatically
Easily tell whether seat is up or down with color-coded lights
Energy-efficient LED lights lets you see where you are going without waking others
Cost: *Est. $12.75
11. Belkin WeMo Switch and Motion Detector
Automate and control your home's electronics right from your mobile device with this switch and motion detector set. Set electronics on a schedule or program your lights to turn on and off when you enter or exit a room.
Key features:
Motion control sensor means you'll never walk into a dark room
Android and iOS compatible
Add on as many switches as your home needs
Cost: *Est. $73.99
12. D-Link Wireless Compact Wi-Fi Range Extender
Never worry about losing connectivity in the farthest reaches of your home again with a WiFi range extender. Securely boost your home network's range so you're never without a reliable connection, no matter where you are in (or outside) your home.
Key features:
Quickly and easily extends the range of your home's wireless network
Compact, portable design requires no additional cables
Backwards compatible with a range of modems
Cost: *Est. $59.99
13. D-Link AC1750 Wireless Gigabit Router
Connect at lightning fast speeds and with minimal interference with this state-of-the-art wireless router. Up to 3 times faster than a Wireless N router, a reliable connection is up for any of your home's connectivity needs.
Key features:
Dual-band speeds of 450Mbps (2.4GHz) and 1300Mbps (5GHz)
Setup in minutes, manage your home network from anywhere
Stream HD videos, play games, and connect multiple devices
Cost: *Est. $139.99
14. Nest Learning Thermostat
Stop fiddling with your home's thermostat and save on your energy bills by installing a smart thermostat. The longer you use it the smarter it gets, adjusting your home's heating and air conditioning automatically.
Key features:
Works with both forced air and radiant heating systems
Senses who's home and adjusts temperature accordingly
Easily control online or from your smart phone via a WiFi connection
Cost: *Est. $249
15. Belkin WeMo Insight Switch
Quickly and easily connect any appliance or electronic in your home to your wireless network. Multiple users can then control devices, program custom notifications, and change device status from anywhere.
Key features:
Monitors and reports on device usage, helping you cut your energy costs
Compatible with Android and iOS devices
Add on as many units as you like to control your whole home
Cost: *Est. $59.03
16. Insteon 6-Button Dimmer Keypad
Control and monitor the status of up to 8 devices at once with this budget-friendly dimmer keypad. Wirelessly control your home's devices and electronics all without having to rewire.
Key features:
Installs easily in place of a standard wall switch
Use as in-wall controller, 20-amp on/off switch, and access point of other Insteon products
LED backlight for 'on' devices
Cost: *Est. $10.78
17. Parrot Flower Power Wireless Plant Monitor
Keep your home's plants looking green and bright with this automated plant monitoring system. Four sensors gather data every 15 minutes to take the guesswork out of plant maintenance and give you real time stats on the health of your home's plants.
Key features:
Compatible with iOS and Android devices
Ability to monitor over 6000 different types of plants
Alerts and 'to-do' lists help you hone your green thumb
Cost: *Est. $52.99
18. INSTEON Dimmer Switch

This switch gives you the ultimate control over your home's lights, and installs in your current outlet hole. Customize brightness levels, timers, and fade speeds effortlessly.
Key features:
Control remotely via your computer or mobile device
3-way switch compatible
Seamlessly integrate with other Insteon home automation products
Cost: *Est. $49.99
19. First Alert PIR725 Motion Sensing Light Socket
Never enter a dark room again. Lights turn on and off automatically when you enter and exit a room, in both day and nighttime settings.
Key features:
Compatible with both CFL and incandescent bulbs
Senses motion up to 12-foot range, 360-degrees
Installs in your current light socket in under a minute
Cost: *Est. $19.75
20. Epson 5030UB 2D/3D 1080p 3LCD Projector
Enjoy a movie-quality home viewing experience with this THX-certified LCD projector. Features like 2400 lumens of both color and white brightness, plus rich blacks, means images practically jump off the screen.
Key features:                                                                                           
HDMI connectivity
Rechargeable 3D glasses
Quick and east setup
Cost: *Est. $2447
21. LAYKOR Automatic Touch-Free Lavatory Bathroom Sink Sensor Faucet
This automatic touchless faucet turns on and off automatically, helping you save water and prevent the spread of germs.
Key features:
Easy to install (under 10 minutes in most cases)
Wired or battery-operated power
Sleek, modern design
Cost: *Est. $56.99
22. Netatmo Weather Station
Not sure whether or not you need that sweater when heading out in the morning? Forget about stepping outside; get all the weather data you need from your home's weather station.
Key features:
Compatible with iOS and Android devices
Weatherproof design monitors temperature, humidity, barometric pressure, and air quality levels
Easily connects multiple stations and wirelessly sends real time data to your device
Cost: *Est. $176.23
23. Egg Minder Wink App-Enabled Smart Egg Tray

You'll never have to worry about forgetting to pick up eggs again thanks to automatic reminders and notifications that let you know when you're running low. It even tells you which eggs are bad or about to spoil.
Key features:
Unit shows you which egg is oldest and should be eaten first
Compatible with iOS and Android devices
Space for 14 eggs
Cost: *Est. $24
24. Ankuoo NEO Wi-Fi Smart Switch
Take control your home's electronics no matter where you are as long as you have a wireless or cellular signal. You can control multiple switches from the same app, no subscription necessary.
Key features:
Compatible with iOS and Android devices
Available in three colors to match your personal style
Set up timers to save energy and keep your home secure
Cost: *Est. $44.99
25. Holî, The Smart Connected LED Mood Lamp
Infinite color combinations allow you to set whatever mood you desire with this smart connected LED lamp. A built-in dawn simulator slowly increases light intensity, allowing you to wake up gently and peacefully.
Key features:
Compatible with iOS and Android devices
Bluetooth connectivity allow you to control up to 3 lamps simultaneously
Long-life LED bulbs will last up to 27 years under normal use
Cost: *Est. $249.95
26. Wimoto CLI001 Climate Control Sensor
Keep up to date with your home's temperature, humidity and light levels right from your mobile device, even without an Internet connection.
Key features:
Compatible with iOS and Android devices
Battery lasts up to 3 years
Range of up to 100 feet
Cost: *Est. $49
27. Beddit Sleep Tracker and Wellness Coach
This device helps you get the most from your sleep by monitoring your heart rate, snoring and movements while you sleep. Who doesn't want information to help get a better night's rest?
Key features:
Compatible with iOS and Android devices
No annoying sensors to wear while you sleep
Daily tips help you get the best rest possible
Cost: *Est. $149
28. Nexia BR100NX Home Intelligence Bridge
Control your home's automated systems with this smart hub module. Custom alerts let you know who's coming and going from your home.
Key features:
Secure encryption
Range of 60-100 feet
Secure your home and monitor energy usage wherever you are
Cost: *Est. $59.99
29. GE Z-Wave Wireless Lighting Control Outdoor Module
This module allows you to effortlessly control your home's outdoor lights from your cell phone or computer, and blends seamlessly with your home's exterior décor.
Key Features
Can withstand damp or wet weather
Compatible with multiple lights
Z-wave technology makes it compatible with many home automation systems
Cost: *Est. $40.08
30. SmartThings Hub
Quickly and easily connect multiple smart devices and sensors so you can control them all with one tool. Notifications let you know the status of your smart devices, and can even tell you if there's an open door or window.
Key features:
Compatible with devices from multiple manufacturers
Compatible with Android and iOS devices
Works with Z-wave technology
Cost: *Est. $99
31. Wink Connected Home Hub
Control multiple devices from different manufacturers quickly and easily with this smart home control system. Shortcuts and schedules allow you to simplify your life at the touch of a button.
Key features:
Compatible with iOS and Android devices
Compatible with Wi-Fi, ZigBee, Z-Wave, and Lutron ClearConnect technologies
Data is encrypted, so you can feel secure
Cost: *Est. $40
32. Belkin Conserve Power Switch
Stop worrying about the cost of 'ghost power' with this smart little switch. At the flick of a switch, it's as if you unplugged your device – so power is no longer being drawn, which means you aren't paying!
Key features:
Frustration-free packaging
Light lets you know when switch is on
Use side by side or alone – won't block the second outlet
Cost: *Est. $9.75
33. Insteon 2457D2 LampLinc INSTEON Plug-In Lamp Dimmer Module
Set the mood in one room or your whole home with a smart dimmer switch. It allows you to control your home's lights no matter where you are in the house.
Key features:
Control via remote, wall keypad, computer, or smart phone
Dual-band technology
Installs using your home's existing electrical
Cost: *Est. $45.35
34. Revolv Smart Home Automation Solution
Control all your home's smart devices with one single unit. Create custom rules like "shut down house" and "movie night" to effortlessly manage all of your devices.
Key features:
60 second setup auto-discovers your home's devices
No monthly costs
Compatible with iOS and Android devices
Cost: *Est. $299
35. Belkin Conserve Energy Saving Outlet
You can cut down on your home's energy costs by installing a timer on devices that draw the most energy, but that you don't need to run if you aren't home. It won't draw power until turned on, and a green light lets you know it's working.
Key features:
30 minute, 3 hour or 6 hour function
3 wire grounded
Use side by side or alone – won't block the second outlet
Cost: *Est. $19.35
36. KOHLER K-9245-CP 2.5 GPM Moxie Showerhead and Wireless Speaker
Take your tunes with you into the shower with this wireless speaker and showerhead combo. It connects via Bluetooth to stream your music, news, or playlists right into the shower.
Key features:
32 foot range
Water resistant, rechargeable speaker
Speaker can be used independently
Cost: *Est. $110.43
37. RainMachine – The Forecast Sprinkler – Smart WIFI Irrigation Controller
Cut down on your home's water bill while and take the guesswork out of watering your lawn, all while keeping your grass in tip top condition. If the Internet goes down, this unit will use your home's statistics to ensure the plants are taken care of.
Key features:
Multiple programs can be run in parallel, sequentially or one-at-a-time
Create unlimited programs
Compatible with iOS and Android devices
Cost: *Est. $249
38. Doorbot Wi-Fi Enabled Smart Doorbell
See and speak to whoever is at your door on your smart phone no matter where you are in the world – talk about peace of mind. Adjustable camera angles and a night-vision mode mean no one will escape your sight.
Key features:
Free replacement if stolen
Hard-wire or battery powered
Mount and sync in minutes
Cost: *Est. $199
39. iRobot Scooba 450 Floor Scrubbing Robot
Stop getting down on your hands and knees to scrub your floors and let the Scooba do the hard work for you. It cleans up to 99.3% of bacteria with almost no effort on your part.
Key features:
Sweeps, pre-soaks, scrubs and squeegees floors
Compatible with most hard floor surfaces
Two cycle options (20 and 40 minutes)
Cost: *Est. $599.95
40. Aeon Labs Z-Wave In-Wall Micro Controller
Link up your whole with by turning any switch in your home into a Z-wave switch with this device. Fits in most electrical boxes – worldwide!
Key features:
Remembers your programs in case of power failure
Compatible with 3-way switches
Turn lights on/off via Z-wave, switch or button
Cost: *Est. $32.95
41. Smarthome 1626-10 FilterLinc 10-Amp Plug-In Noise Filter
Even though we might not be able to hear it, with all the devices around your home talking to one another, technology can get loud. Tune out some of the noise with a filter.
Key features:
Eliminates interference and filters noise from powerline
Can still plug in another device
Works in seconds
Cost: *Est. $29.99
42. Wink Relay – Smart Home Wall Controller
A smart home needs a smart hub to control it all, and this system lets you do just that. Soon to be released intercom functionality means you can stay connected through multiple units.
Key features:
Fits most standard switch boxes
Touch screen with 4.3" display
Built-in proximity, humidity and temperature sensors
Cost: $299
43. Saicoo® Wireless digital doorbell
Say goodbye to the classic doorbell and hello to a smart new way to know who's at your door. Stick with the classic 'ding-dong' or choose from one of 52 additional chimes available online.
Key features:
1000-foot range
52 door chime combinations
Plug-and-play installation
Cost: *Est. $18.99           
44. Acer H6510BD 3D Home Theater Projector
What smart home would be complete without the ultimate viewing experience? An HD projector can complete any home entertainment system. This unit lets you watch Blu-ray 3D, DLP 3D, and NVIDIA 3DTV Play 3-D technologies.
Key features:                                                         
Full 1080p widescreen resolution
Multiple connectivity options including PC, D-Sub and HDMI
eColor Boost technology means you can watch stunning pictures even on your wall
Cost: *Est. $649.99
45. Electric Remote Controlled Drapery System
Open and close your blinds with at the touch of a button with this system that can seamlessly integrate into any number of home automation systems.
Key features:
Supports up to 90lbs of curtain weight
Powered via standard outlet
Timer control available
Cost: *Est. $319
46. WINBOT W730, the Window Cleaning Robot
Forget about the hassle of gathering window cleaning supplies and climbing ladders when your windows need a wash – let your window cleaning robot do the hard work for you.
Key features:                                                  
Compatible with framed or frameless windows
Comes with 2 cleaning pads and a squeegee
Cleans even tall windows at the touch of a button
Cost: *Est. $359.99
47. Nest Protect Smoke Plus Carbon Monoxide Detector
Your family's safety is top of mind, and a reliable smoke and carbon monoxide detector can give you the security you need. Alerts to your phone let you know when there's a problem or if batteries are running low.
Key features:
Choose from wired or battery-powered models
Human voice warnings and traditional alarm signal
Installs in minutes
Cost: *Est. $99
48. Shower Tunes
Take your tunes, and your tablet, with you in the shower – all white keeping your device safe from water. Never miss an important call or email again.
Key features:
Made of thick gauge vinyl
Built-in waterproof speakers
Battery operated
Cost: *Est. $39.95
49. iTouchless Deodorizer Touch-Free Sensor 13-Gallon Automatic Stainless-Steel Trash Can
Make throwing and taking out the trash easier with a garbage can that opens and closes for you. It senses when you approach so you can toss things out, even when your hands are full.
Key features:
Carbon filter to tackle the toughest odors
Large opening
Battery or AC adaptor powered (not included)
Cost: *Est. $69.99
50. Fitbit Aria Wi-Fi Smart Scale
Gone are the days of old-school rotating scales, high tech models like this one are now incredibly accurate, measuring body fat percentage, BMI and weight. Data syncs to your FitBit account so you can track your progress all in one app.
Key features:
Stats upload automatically via WiFi
Can set up to 8 users
350lb weight limit
Cost: *Est. $105
Courtesy : safesoundfamily